How do I view activities on the roster?
Learn how to view all activities for a given day.
To view activtiy by day follow the below steps:
Select 'Rosters' in the top left corner

Using the filters, search and select the roster you want to view

Select the below icon on the top left-hand side of the roster to see the 'Activity View'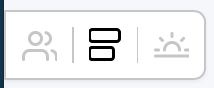 On the below screenshot, there are few helpful features highlighted such as:
The activity name
Filter options
How to navigate and add shifts
💡 Can't see the roster you want? Contact your in-house system administrator for access to other departments.