Work flexibly, at the times and locations that suit you – all in one place. Join the tens of thousands of workers who have taken the hassle out of working and getting paid.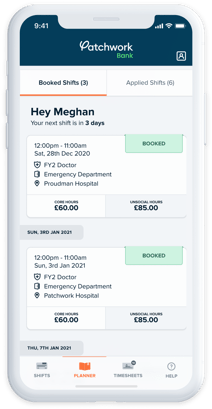 Patchwork Bank planner and timesheets make it easy for you to track when and where you work, with fewer emails, fewer calls, and zero hassle.
Instant booking allows you to manage your time, your way. No more waiting to find out when you're working with instant booking – 24 hours a day, 7 days a week.
Keep track of what you've worked and how much you are owed, all from the app, taking the hassle out of being paid.
One-time secure document upload simplifies the on-boarding process as you change roles. Your documents are stored safely and permanently, as you move between departments and organisations.
How does it work?
The Patchwork app
Easily manage your work schedule using the three tabs at the bottom of the app: shifts, planner and timesheets.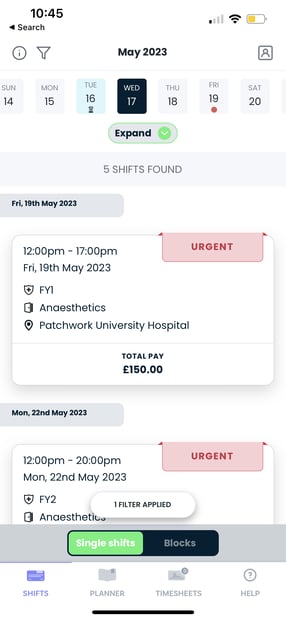 Shifts
Use this view to see all available upcoming shifts.
💡Urgent shifts are shifts that are unfilled and take place in less than X days (specified per organisation).
Click on the shift to pull up the shift ID for extra information. The shift card displays the following:
Start and end time
Date
Grade
Rate per hour (divided by core and unsocial)
Site
Department
Notes from the department
Total rate of shift
Unique shift ID to quote for further queries


This page also allows you to filter shifts by selecting the filter button in the top right. You can filter shifts by speciality, grade and site. This allows you to tailor the shift view to suit your needs.
Planner
Use this page to view shifts you have applied to or are booked to work.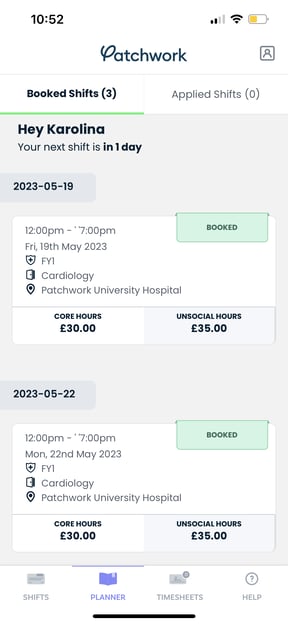 Timesheets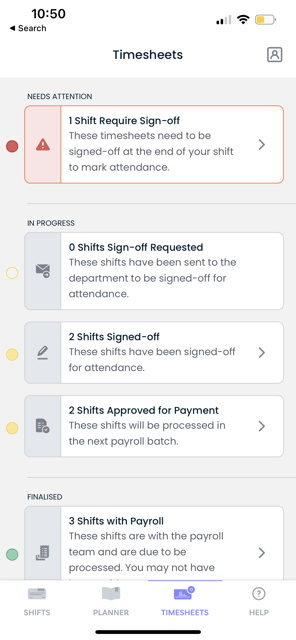 One of the many benefits of Patchwork is that all timesheets are digital, removing the need for paper forms and taking the hassle out of being paid.
Shift sign off
When you have completed a shift, select the recently completed shift, adjust your hours and breaks as appropriate, and then select a predesignated authoriser from the drop-down menu to sign the shift off for you.
[insert link about what to do if nobody is available]
You can also view all shifts that need to be signed off, have been signed off, have been approved for payment and are with payroll on this page. This allows you to keep track of where your shift is on the shift journey. You can also view a complete history of your timesheets.
💡Please note that Patchwork is not responsible for shift sign-off, payroll or other timesheet processes. If you are experiencing payment issues, please contact the organisation who will be able to support you.
Desktop app
The Patchwork desktop app is an alternative to the mobile app, and allows you to browse and book shifts, as well as manage your calendar. The desktop view syncs with your mobile app, so your information can be accessed across different devices (providing you sign in with the same account).
🚀Remember to use your mobile app to sign off your shifts and track payments.
Did you know you can work across participating organisations with Patchwork Collaborative Bank?
Book shifts at the departments, sites and locations that work best for you, at the touch of a button.
Induction day video
Here is a useful video that can be shared with new starters to help support your organisation with onboarding new workers to your bank.
Login to your account or download the app to get started today:
Tap here if you have an iPhone