Inside the Patchwork functionality that supports your doctors in training to deliver high-quality patient care. Learn when and how to raise an exception report using Patchwork.
NHS England defines exception reporting as 'a contractual mechanism which doctors in training can use to report patient safety, rostering and training concerns'.
Getting exception reporting right is an underrated aspect of supporting your junior doctors' well-being and promoting safe working practices.
Exception reports should always be raised to indicate when doctors in training have been required to work outside of their agreed work schedule. For example, a clinician should electronically raise an exception report when they have worked beyond the parameters of their rota (e.g. staying late, missing their breaks).
Patchwork Rota makes this process painless, ensuring clinicians are efficiently and fairly compensated for the work they do. Clinicians can raise exception reports directly from the roster, discuss the details with appropriate supervisors in-system, and ensure everything is tracked with Patchwork Insights integration and a complete audit trail. Plus, the customisable categories mean this functionality can be adapted to all staff groups.
The process captures all necessary information within the workflow. For example, clinicians can enter the reason for raising the report, confirm whether the situation impacted patient safety, and (where enabled) request their preferred method of compensation.
This removes all the existing barriers to raising an exception report, encouraging clinicians to actually raise them. In addition, Guardians of Safe Working have all the information they need to monitor compliance, drive improvements and further support safe staffing.
All this is included in Patchwork Rota as standard – no add-on modules needed.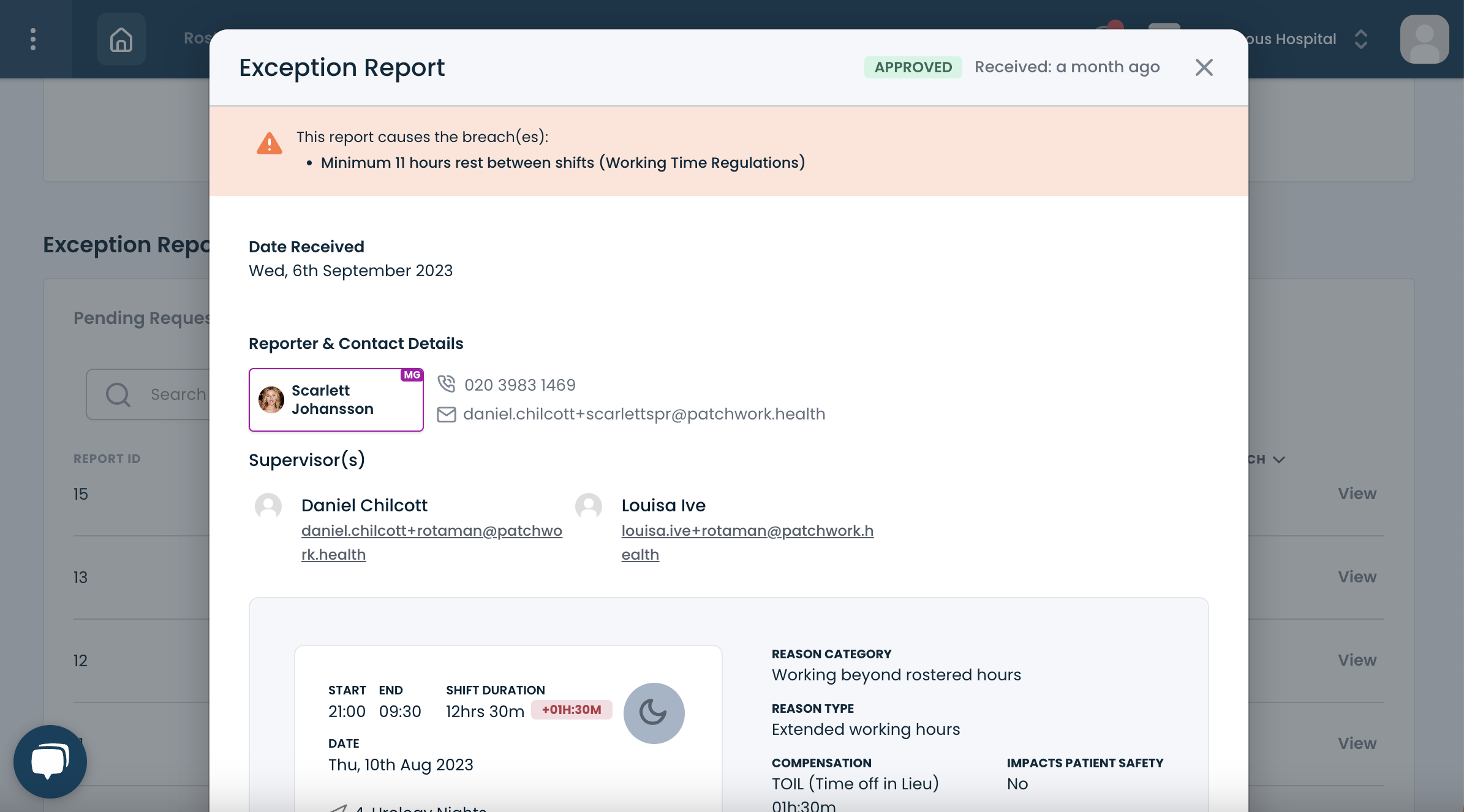 There are important system settings that must be configured by admin users to allow your organisation to start using this functionality. Ready to get started?