Patchwork Insights is the best-in-class information management and reporting tool that gives you complete transparency over your staffing metrics and user behaviours.
Drive long-term, sustainable workforce improvements with:
Up-to-date overviews of actual and forecasted spend
Live performance indicators

to assess targets and identify blockers

Fully exportable

dashboards, graphics and extractable workforce data

Full support

from our in-house expert data analysts

Continuous dashboard development

based on your feedback and evolving requirements

Customisable access controls

that allow you to give visibility of specific data to specific users



Automatically generated reports you need in just a few clicks, to see the data that matters most to you with customisable templates. Reports are pre-configured to meet the requirements of central bodies, including NHSEI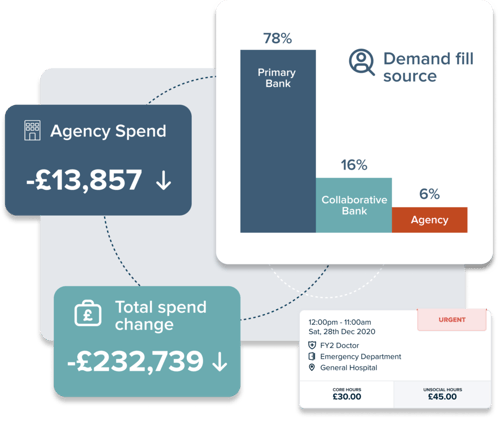 How do I access Patchwork Insights?
Patchwork Insights is accessible via our partner Amazon Quicksights at insights.patchwork.health
💡Bookmark this URL: http://insights.patchwork.health
Patchwork Insights account access is managed by your temporary staffing team. Once approved, the email invitation is titled 'Invitation to Join QuickSight' from the QuickSight team at - noreply@quicksight.aws.amazon.com
🚀 When viewing diagrams hover your cursor over any table or graph to see a detailed breakdown of data
🚀Click on any diagram and press the arrow in the top right-hand corner to export your data!
🚀Change your start and end filters to review your performance throughout a specific period.
🚀Right-click on any table or graph to drill down or up into your data. Drill down by either timescale or structure to unearth unique insights